Enjoy Your Hobby More With These Hobby Essentials!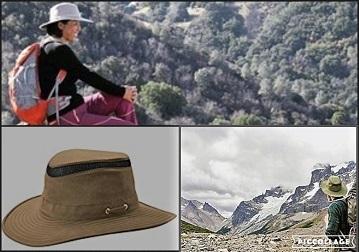 New! Tilley Hiker Hat!
T4MO-1 HIKER'S HAT -

Designed for the avid hiker, our innovative Hat designed comes with lots of features for the trail.
Tilley's sun-protective Hiker's Hat is designed with an evaporative cooling insert, powered by HyperKewl™, to help relieve heat stress during treks. A rear brim loop provides a place to securely clip your Hat in place when not in use. These unique features, plus all the usual Tilley® Hat benefits make this the ultimate Hat for the trail.

Tilley Mash Up Hat
Made with a fabric that consists of recycled yarns leftover from other fabric runs (a blend of recycled yarns - 29% hemp; 28% organic cotton; 36% polyester; and 7 % rayon). This light weight intermediate brim hat becomes one-of-a-kind with its own blend of yarn colors!
-Guaranteed for life not to wear out
-Insured against loss for 2 years; all perils
-Sun protection, rated UPF 50+
-Repels rain, floats and ties on in the wind
-Brim size: Front and back 3 ¼"; Sides 2 ¼"
-Weighs 3.9 ounces / 111 grams
T

illey's

Eco-Friendly Hat
M

ade of soft, sueded organic cotton, with ventilating mesh, the Tilley Organic Airflo Hat looks as good as it feels. The mesh crown provides great relief in hot weather and the cotton is rugged yet lightweight. Organically grown cotton is an eco-friendly alternative that benefits us all!

LTM2 AIRFLO® Nylamtium®Hat
It's the Hat that overshadows the rest - literally! The LTM2 AIRFLO® Tilley Hat, our broadest brim, is designed with a ¾" polyester mesh in the crown for coolness and comfort during hot days and strenuous activities. Made with Tilley Nylamtium®, a strong water-and-mildew resistant form of lightweight nylon.


Variety of Field Guides and Nature Books

Fog-free Lens Cleaning Kit
Vortex cleaning solution combines superior cleaning action with anti-fogging properties...safe for all your optics! Also, included is a vor-tek microfiber cloth used for the removal of smudges and fingerprints. Extra thick and soft!
Lens Cleaning Pen
Now you can get rid of smudges, dust, and oily fingerprints that blur the best of views. This Lens Pen from Vortex gives you everything you need in a small, lightweight package that's no larger than a pocket pen. The Vortex Lens Pen uses a revolutionary non-liquid compound outperforms other cleaners—that won't spill or dry out.



Binocular Harness Strap

Takes the weight of your binoculars off your neck!

Easy to attach and completely adjustable.

Flexible straps hold the binoculars close to your body, keeping them secure yet accessible.

Fits many cameras as well!