How Cool is That! - Nesting
It's a Sweet Month to Feed the Birds!
Spring migration is underway, and a countless number of birds are heading north to their nesting territories.
Fortunately, one of the hobby's favorite birds, hummingbirds , can be immediately attracted to feeders with nectar and native plants...making it a sweet month to feed the birds.
Only 5% of all avian families include nectar as an important part of their diet, making hummingbirds part of a very exclusive dining club. You can easily attract hummingbirds to your feeders...they enjoy a nectar solution of four parts water to one part sugar.
It only takes between 30 to 50 minutes for nectar to be digested, so hummingbirds must eat a lot and often. In fact, hummingbirds eat about every ten minutes and can drink up to twice their body weight in nectar every day.
However, no bird's diet is made up entirely of nectar. Nectar-eaters must also include other foods, usually insects, to obtain essential amino acids and other nutrients. Hummingbirds spend more than 25% of their time foraging for arthropods, such as spiders.
The only nesting hummingbird in our area is the Ruby-throated Hummingbird...the adult male has a red throat and the young male's throat looks like it has speckled flecks of red glitter. The females' throats are white in appearance. Our hummingbirds like to nest near water...lakes, rivers and creeks...so they may leave your yard while they are nesting. But they will return to your feeders when done. So don't be concerned.
Be sure to come in and take advantage of our Hummingbird Feeder Special-Now thru April 13. Buy any WBU Hummingbird Feeder and get HALF OFF our Mini High Perch Feeder! And, be sure to share your hummingbird tales with us!
Happy Easter, Happy Spring!
Susan, Mary, Tracee, Ryan, Samantha, Mike and Manny & Mia!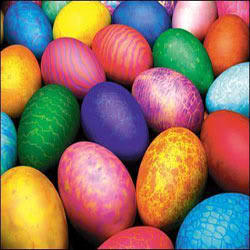 P.S. We will be closed Easter Sunday, April 20th.