2098 Thomasville Road
Tallahassee, FL 32308
North of Betton Rd, on the left

(850) 576-0002
Open Today Until 6:00 pm
| | |
| --- | --- |
| Monday | 10:00 am - 6:00 pm |
| Tuesday | 10:00 am - 6:00 pm |
| Wednesday | 10:00 am - 6:00 pm |
| Thursday | 10:00 am - 6:00 pm |
| Friday | 10:00 am - 6:00 pm |
| Saturday | 10:00 am - 6:00 pm |
| Sunday | 12:00 pm - 4:00 pm |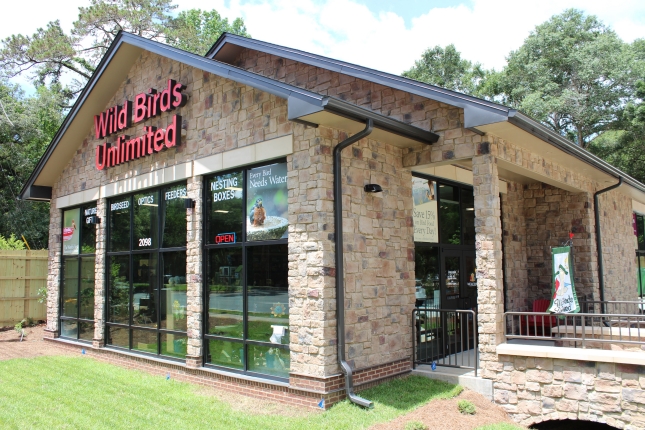 Mary Huggins & Susan Teisciero Franchise Store Owners
View Our Store Site

Watch Our Barred Owl Nest Cam!
A mama Barred Owl has set up residence in our WBU owl nest box again this year. Jim Carpenter, President & CEO of Wild Birds Unlimited, has hosted a camera-equipped owl box in his backyard for nearly 20 years. This year, he's installed a second camera so you can see the nest box opening from the outside. Watch for Papa Owl to bring food to Mama and see all of their comings and goings. Later in the season, you'll be able to see the nestlings once they begin peering out of the nest box entrance prior to branching.
Mama moved into the box in early March. If all goes well, we can expect the 3 owlets to leave the nest four to five weeks after April 6th!
Stop by often to watch the live streaming video from TWO CAMERAS at the nest box site 24 hours a day! One camera is placed inside the nest box and one is outside so you can see the owls coming and going.
Timeline:
-First egg was laid on Monday 3/5
-Second egg laid on Wednesday 3/7
-Third egg laid on Friday 3/9
Incubation typically lasts 28 – 33 days from when the first or second egg is laid.
-First egg hatched 4/6 in the AM
-Second egg hatched 4/7
-Third egg hatched 4/9 in the AM
This is WBU's fourth consecutive year to partner with Cornell Lab to share the wonders of this Barred Owl family. To learn more about Barred Owls, visit All About Birds by The Cornell Lab of Ornithology.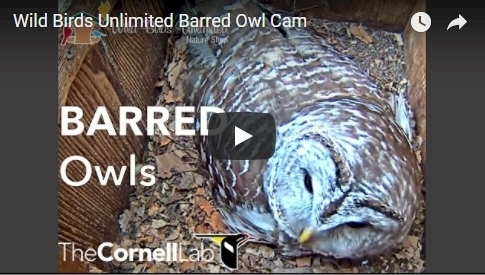 ---