2098 Thomasville Road
Tallahassee, FL 32308
North of Betton Rd, on the left

(850) 576-0002
Open Today Until 6:00 pm
| | |
| --- | --- |
| Monday | 10:00 am - 6:00 pm |
| Tuesday | 10:00 am - 6:00 pm |
| Wednesday | 10:00 am - 6:00 pm |
| Thursday | 10:00 am - 6:00 pm |
| Friday | 10:00 am - 6:00 pm |
| Saturday | 10:00 am - 6:00 pm |
| Sunday | 12:00 pm - 4:00 pm |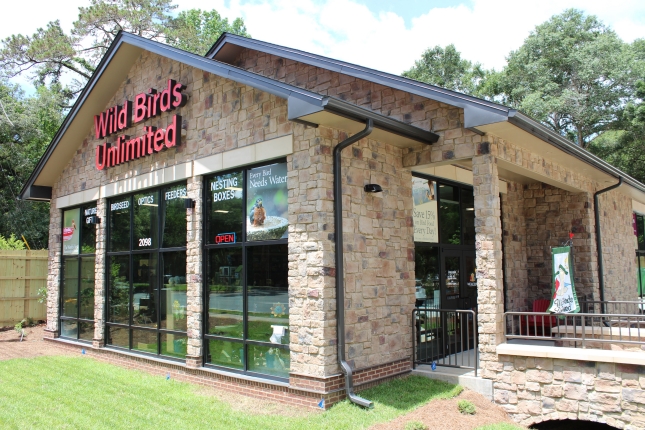 Mary Huggins & Susan Teisciero Franchise Store Owners
View Our Store Site
READY FOR FALL FUN...IT'S TIME TO USE YOUR "NO PEEKING" ENVELOPE DISCOUNT!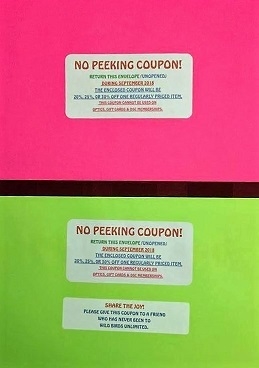 "NO PEEKING" ENVELOPE MEANS SAVINGS FOR YOU!
If you shopped last month in August, you received a "No Peeking" Envelope. During September, you may come in and redeem the discount inside the envelope...BUT REMEMBER to return with the Envelope unopened! When checking out, open the envelope and apply the Discount (20%, 25% or 30%) on one Regularly Priced Item**
Also, you may have shared the joy and gave a "No Peeking" Envelope to a Friend who has never been to Wild Birds Unlimited. Please be sure to remind them to come visit us this month and save on their first visit!
**Offer good at Wild Birds Unlimited of Tallahassee during September 2018; not valid on optics, gift cards or DSC Memberships.
---