What's New in Gifts?
In June, Mary and I ventured to Indiana for our Annual Meeting...We experienced great workshops, exciting gift/ hobby purchasing opportunities, as well as time to catch up with old friends and meet some new folks. This trip was a success and, in addition, we took the opportunity to visit northern Michigan and the Upper Peninsula! We were gone for two weeks, and didn't feel it till we got back!
We didn't let any grass grow under our feet...just a week and a half later we were off to the Atlanta Gift Mart. It was a fun and whirlwind three days! We feel we are ready to bring you a wonderful shopping experience now and through the holidays.
We hope you will be as excited as we are, and make Wild Birds Unlimited your choice for gifts!

1) Beautiful scarfs with magnet pin; pendants also available. 2) Furniture for the sunroom, porch or outdoors; made with Weather-all poly lumber. We will special order. 3) Hummingbird nectar-no dyes, all natural. Mary and Susan use it in their feeders! Also, we now have pre-filled hummingbird feeders, making sure fresh nectar is always available!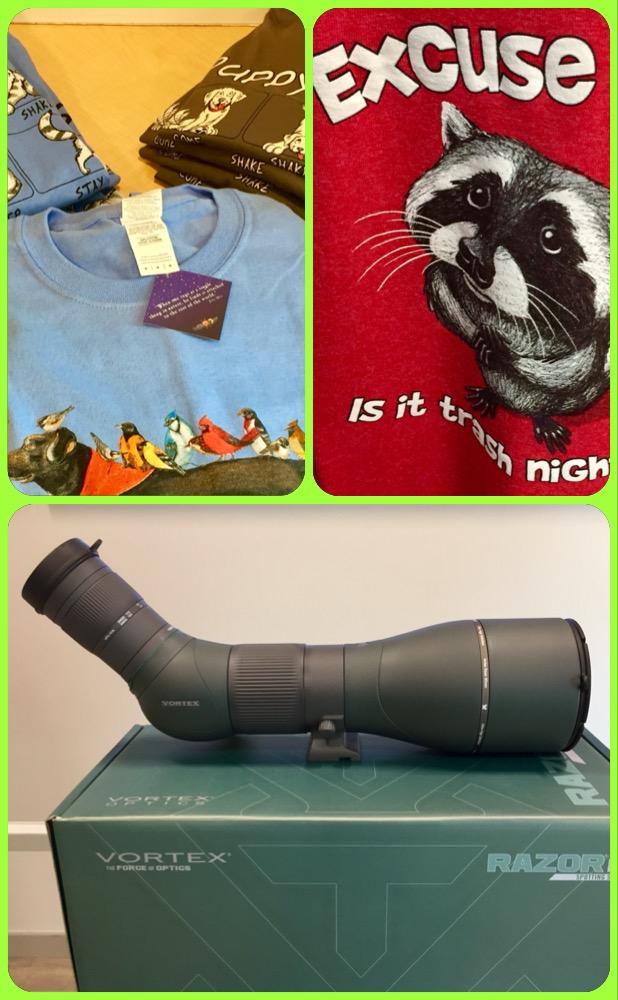 1) and 2) Latest Tee-Shirts: Cat Tricks, Puppy Tricks; ECLIPSE TEES!!! 3) Vortex Razor Scope HD 27-60X85...Come in for a test drive!