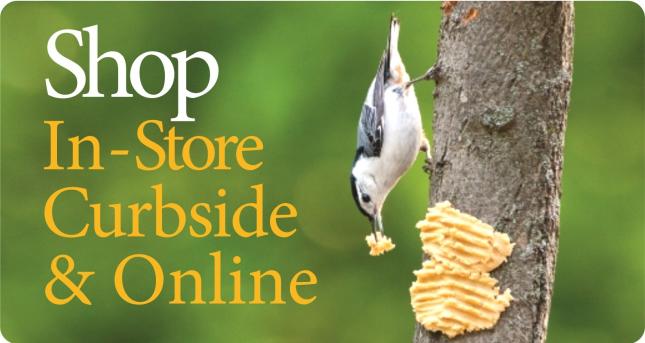 Wild Birds Unlimited Open for Safe Shopping
We want to remind everyone that we are still requiring face masks in our store. If you forget yours, we have a disposable one to give you. Please know that we are taking every single precaution we can to keep our customers and our staff safe. We know that we have many customers in the high-risk category for Covid, so we promise to do everything we can to protect you. We will continue limiting the amount of customers in the store at one time; masks are required; and we disinfect high-touch areas after every single customer. We think our responsibility to protect you is of the utmost importance. Without YOU, we wouldn't be here. Thank you for supporting local business and small business. Please continue to help us practice these safety protocols. As always, if you do not feel comfortable coming inside, or wearing a mask inside, please order on our website for curbside pickup or delivery, or just give us a call. Thank you!
Our showroom is open for in-store shopping... we always look forward to seeing you in person, smiling behind your mask!
We want you to know that our top priority will be to provide a safe environment for you as well as for our staff. For the foreseeable future, a few things will be different in the store and we appreciate your patience as we all slowly get back to feeling "normal" once again:
In-Store Hours: We are operating at our normal hours...
Mondays through Saturdays 10:00 am - 6:00 pm
Sundays 12:00 pm - 4:00 pm
Curbside Pick-Up Hours: We will continue bringing your order to your car....
Mondays through Saturdays 10:00 am - 6:00 pm
Sundays 12:00 pm - 4:00 pm
Shop Online: you can shop online at any time at MyWBU.com/Tallahassee....
available 24/7
Store Cleaning Policies: During daily operations, our staff will use disinfectants to clean high-touch areas such as door handles, shopping cart handles and near the checkout counter every hour. A more thorough cleaning occurs each night.
Social Distancing: We will observe social distancing policies by limiting the number of people in the store at any one time. We also ask that shoppers maintain a distance of at least 6' from others while in the store.
Use of PPE: Our staff will use personal protective equipment including masks and plexi guards at the registers We will REQUIRE that shoppers properly wear a mask while in the store. If you do not feel comfortable wearing a mask inside, please order on our website for curbside pickup or delivery, or just give us a call to place a curbside pickup order.
Sanitizing Upon Entry: We have a sanitizing station set up at the entrance of our store and REQUIRE all customers to sanitize their hands upon entry into the store.
Shopping With a Purpose: We have missed being able to chat with everyone about their birds. But currently, for the safety of our team and all of our customers, we must limit the number of in-store customers to 6 people at a time. We therefore request that you keep your time in the store limited to getting the items that you need.
If you're not yet comfortable shopping in-store, you can keep your feeders filled by ordering online at MyWBU to have items delivered or to arrange for curbside pickup Or, just call us at us at (850) 576-0002.
Until we meet again, we wish you peace and good health. We appreciate you supporting Wild Birds Unlimited of Tallahassee!
Sincerely,
Andrew, CJ, Lori, Alexis, Jennifer, Lori, Peter, Angela and Frank too!