Feeling Lucky?
Then you just might win one of the beautiful 3' tall photos by Tara Tanaka, award winning international wildlife photographer! From now through March 11, 2018, you can purchase 1 raffle ticket - $1, 6 for $5 and 13 for $10. All monies collected will be donated to St. Francis Wildlife!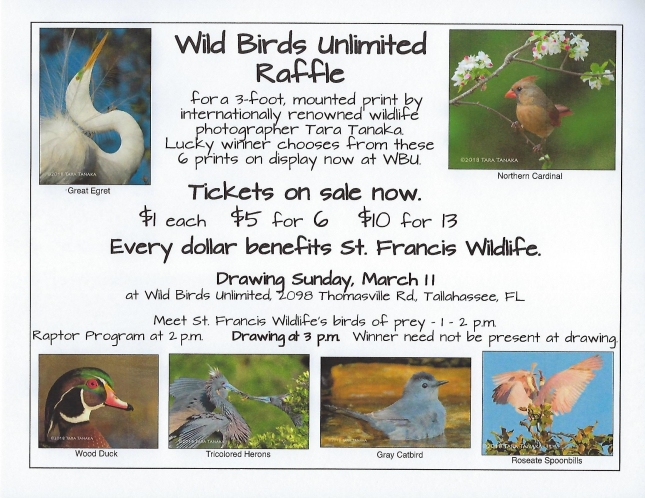 Words from the Artist - Tara Tanaka
If you live in Tallahassee and would like an opportunity to win your choice of one of these 3' tall photos, please go by the Wild Birds Unlimited store on Thomasville Road and buy a handful of raffle tickets. The winning ticket will be drawn at the store on March 11th at 3pm (you don't have to be present to win), and will be preceded by a presentation by Sandy Beck of St. Francis Wildife – and I'm sure she'll have one or more of her rehabilitated birds with her.
When Mary and Susan were in the process of building their new store, they asked if I would be interested in providing the photos – each 3' tall – that would hang on display for their customers to enjoy. We hatched a plan of raffling them off, one by one over time, with all of the money raised from ticket sales going to St. Francis Wildlife. Last year they raffled a Barred Owl photo, and raised over $1300 for St. Francis! This year the winner will get to choose from among these photos (which are signed, but which do not have those big, ugly watermarks).
"Baby season" at St. Francis Wildlife is just around the corner, when they will be overrun with baby birds and other wildlife, and will really be able to use a little help to take care of their tiny charges. Buying a ticket will help support them as well as give you a chance to own one of these large prints.
Thank you to Mary and Susan for covering the cost of printing these photos, and for donating them to the raffle for such a worthy cause.